64% of Americans Would Rather Spend on Eating out than Eyecare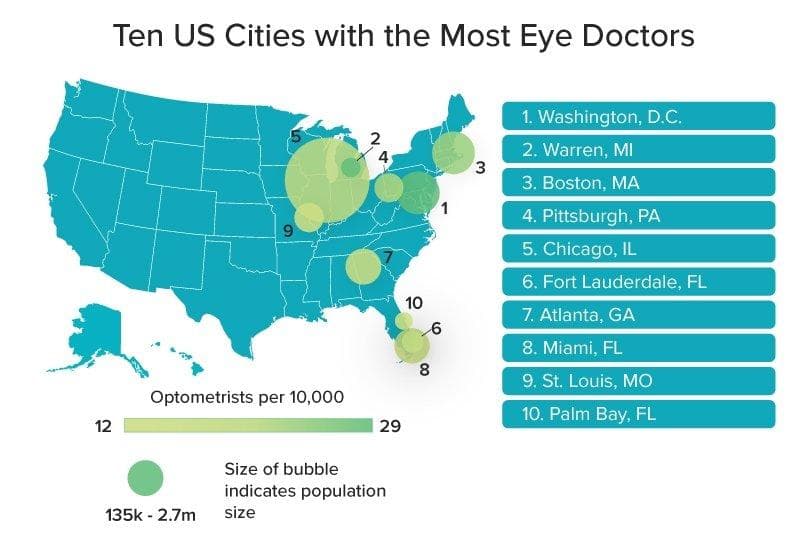 A survey carried out by STAAR Surgical, makers of the Visian ICL shows that people are prioritizing spending money on a range of non-essentials before eyecare, with 64% of respondents saying eating and drinking out is what they are most likely to spend their money on.
Clothing came in second place, with half of the population more likely to splash the cash on a new wardrobe rather than visiting an eye doctor or prescription glasses. Technology is also a priority for 4 in 5 Americans, with 39% saying the latest gadget would be a more likely purchase than eyecare.
5% of Americans have never had an eye appointment
The survey highlighted a wider trend for Americans to neglect visits to the eye doctor in favor of other activities. 42% of respondents have not had an appointment in the past year, with 1 in 6 last seeing an eye doctor more than two years ago and a shocking 5% never having an eye appointment. American Optometric Association recommends that adults aged up to 61 get a check-up every two years, and that those over 61 do so yearly.1 Furthermore, regular eye exams can help to detect a number of health issues in addition from eye problems, including diabetes, cancer and the risk of stroke, making frequent check-ups even more important. 2
Eye appointments are being missed or delayed for a variety of reasons, the most common of which is an inability to get time off from an employer. 45% of people said they failed to attend an appointment because of difficulties getting their employer to sign off the missed time.3
The availability of the eye doctor was also a key reason, with 1 in 3 Americans not able to secure a convenient time for an appointment. Perhaps most worrying, nearly a quarter of respondents (23%) say they just don't find eye appointments important.

Only 25% of people can see an eye doctor inside a week
The amount of time it takes to secure an appointment could be one reason preventing people from attending them, with 1 in 5 respondents saying they often wait a month or longer for an appointment. Half of those surveyed said they wait between 1 and 3 weeks for an appointment on average, with only 25% of Americans able to have their vision checked in seven days or less.
Encouragingly, the majority of Americans aim to have their eyes checked at least once a year, with 56% saying they will book an appointment regardless of whether they feel their eyes need to be checked. However, 4 in 5 people will only do so if they feel that their eyesight has gotten worse, despite eye doctors often being able to spot several vision problems before they become clear.
Washington, D.C. is tops for eye doctor numbers
Location could also be a key factor in people being likely to attend an eye appointment, with some areas having a much greater concentration of eye doctors than others. For example, we analyzed data from the Bureau of Labor Statistics4 and Census population data5, which concluded Washington, D.C., has 29 doctors for every 10,000 people living in the city. Conversely, Tucson, Arizona, has fewer than one eye doctor per 10,000 citizens.
Access to eyecare appears to be a barrier to many Americans visiting an eye doctor, although eye health still ranks above dental health in terms of importance. While just 20% of respondents would spend their money on eyecare, only 11% would spend it on dental procedures. With eyecare also edging above vacations (19%), it certainly holds value among those surveyed, but there appears to be a long way to go before eye doctor appointments become a necessity for many Americans.
Important Safety Information
The Visian ICL is intended for the correction of moderate to high nearsightedness. Visian ICL and Visian TICL surgery is intended to safely and effectively correct nearsightedness between -3.0 D to -15.0 D, the reduction in nearsightedness up to -20.0 D and treatment of astigmatism from 1.0 D to 4.0 D. If you have nearsightedness within these ranges, Visian ICL surgery may improve your distance vision without eyeglasses or contact lenses. Because the Visian ICL corrects for distance vision, it does not eliminate the need for reading glasses, you may require them at some point, even if you have never worn them before.
Implantation of the Visian ICL is a surgical procedure, and as such, carries potentially serious risks. Please discuss the risks with your eye care professional. Complications, although rare, may include need for additional surgical procedures, inflammation, loss of cells from the back surface of the cornea, increase in eye pressure, and cataracts.
You should NOT have Visian ICL surgery if:
Your doctor determines that the shape of your eye is not an appropriate fit for the Visian ICL
You are pregnant or nursing
You do not meet the minimum endothelial cell density for your age at the time of implantation as determined by your eye doctor
Your vision is not stable as determined by your eye doctor
Before considering Visian ICL surgery you should have a complete eye examination and talk with your eye care professional about Visian ICL surgery, especially the potential benefits, risks, and complications. You should discuss the time needed for healing after surgery. For additional information with potential benefits, risks and complications please visit DiscoverICL.com

Find a Doctor
References
1Visian ICL Patient Information Booklet
2Sanders D. Vukich JA. Comparison of implantable collamer lens (ICL) and laser-assisted in situ keratomileusis (LASIK) for Low Myopia. Cornea. 2006 Dec; 25(10):1139-46.
3Naves, J.S. Carracedo, G. Cacho-Babillo, I. Diadenosine Nucleotid Measurements as Dry-Eye Score in Patients After LASIK and ICL Surgery. Presented at American Society of Cataract and Refractive Surgery (ASCRS) 2012.
4Shoja, MR. Besharati, MR. Dry eye after LASIK for myopia: Incidence and risk factors. European Journal of Ophthalmology. 2007; 17(1): pp. 1-6.
5aLee, Jae Bum et al. Comparison of tear secretion and tear film instability after photorefractive keratectomy and laser in situ keratomileusis. Journal of Cataract & Refractive Surgery , Volume 26 , Issue 9 , 1326 - 1331.
5bParkhurst, G. Psolka, M. Kezirian, G. Phakic intraocular lens implantantion in United States military warfighters: A retrospective analysis of early clinical outcomes of the Visian ICL. J Refract Surg. 2011;27(7):473-481.