Do Eyes Get Sunburnt? - Summer Eye Care Tips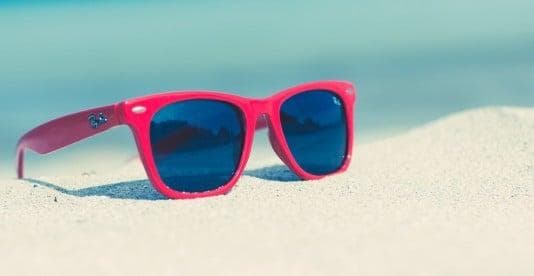 With the heat sneaking up right around the corner, it's important to take care of your eye health to continue to enjoy the beautiful summer sunsets. Stylish sunglasses are in style just in time to give your unique eyes some coverage from the harsh UV rays. Check out our top finds on how to keep your eyes cool for the summer with our summer eye care tips.

Sunburnt Eyes, ouch!
Yes, it is possible to get a "sunburn" on your eye. Sunburnt eyes, or photokeratitis, is a condition when your eyes are damaged from UV rays. This usually isn't immediately noticeable until after the damage has occurred. Some symptoms of sunburnt eyes may include:
Pain
Redness
Blurriness
Sensitivity to Bright Lights
Headaches
Seeing Halos
An easy way to prevent sunburnt eyes is to wear lenses that have UV protection. The Visian ICL lens is built with UV protection while certain contact lenses may have UV protection as well. The best way to ensure your eyes are safe would be to wear sunglasses designed to block UV rays.
Stay Hydrated & Fueled with Eye-Loving Foods
The summer heat (and even humidity) spares no one, so it's important to stay hydrated with plenty of water and electrolytes.

In 2018,45% of millennials reported that they felt very informed about their health, revealing an increase in its importance as time progresses. This has come to include one's eye health and the types of food they consume to maintain that health.

With eye health, our next summer eye care tip is to eat foods that contain two specific types of nutrients: lutein and zeaxanthin. These have shown to help promote healthy eyes since these are two primary antioxidants located in the eye that:
Filter harmful blue wavelengths of light
Protect & maintain healthy cells in the eye
Helps to reduce the risk of chronic eye diseases such as cataracts
Foods such as kale, spinach, green peas, broccoli, and eggs are rich with lutein and zeaxanthin.
Battling Dry Eye from Hot Breezes
Summer isn't complete without its hot blasts of wind. Dry eyes are often victims of this and can irritate one's vision. Some symptoms include:
Dryness
Itchy Eyes
Stinging
Redness
Irritation
Wearing sunglasses or other forms of protective eye gear can help to alleviate those symptoms. Additionally, eye drops designed to combat dry eyes can help to keep them lubricated throughout the day.
Sources:
https://www.aao.org/eye-health/tips-prevention/5-ways-to-get-your-eyes-summer-ready
Eye care is always important, especially in the summer. Enjoy the sunny days while keeping your eyes safe from the sun's harmful rays or the hot, eye-drying breezes. Take a midnight stroll or dip in the pool to cool off, but be sure that your eyes are staying healthy to avoid red eyes!
Important Safety Information
The Visian ICL is intended for the correction of moderate to high nearsightedness. Visian ICL and Visian TICL surgery is intended to safely and effectively correct nearsightedness between -3.0 D to -15.0 D, the reduction in nearsightedness up to -20.0 D and treatment of astigmatism from 1.0 D to 4.0 D. If you have nearsightedness within these ranges, Visian ICL surgery may improve your distance vision without eyeglasses or contact lenses. Because the Visian ICL corrects for distance vision, it does not eliminate the need for reading glasses, you may require them at some point, even if you have never worn them before.
Implantation of the Visian ICL is a surgical procedure, and as such, carries potentially serious risks. Please discuss the risks with your eye care professional. Complications, although rare, may include need for additional surgical procedures, inflammation, loss of cells from the back surface of the cornea, increase in eye pressure, and cataracts.
You should NOT have Visian ICL surgery if:
Your doctor determines that the shape of your eye is not an appropriate fit for the Visian ICL
You are pregnant or nursing
You do not meet the minimum endothelial cell density for your age at the time of implantation as determined by your eye doctor
Your vision is not stable as determined by your eye doctor
Before considering Visian ICL surgery you should have a complete eye examination and talk with your eye care professional about Visian ICL surgery, especially the potential benefits, risks, and complications. You should discuss the time needed for healing after surgery. For additional information with potential benefits, risks and complications please visit DiscoverICL.com

Find a Doctor
References
1Visian ICL Patient Information Booklet
2Sanders D. Vukich JA. Comparison of implantable collamer lens (ICL) and laser-assisted in situ keratomileusis (LASIK) for Low Myopia. Cornea. 2006 Dec; 25(10):1139-46.
3Naves, J.S. Carracedo, G. Cacho-Babillo, I. Diadenosine Nucleotid Measurements as Dry-Eye Score in Patients After LASIK and ICL Surgery. Presented at American Society of Cataract and Refractive Surgery (ASCRS) 2012.
4Shoja, MR. Besharati, MR. Dry eye after LASIK for myopia: Incidence and risk factors. European Journal of Ophthalmology. 2007; 17(1): pp. 1-6.
5aLee, Jae Bum et al. Comparison of tear secretion and tear film instability after photorefractive keratectomy and laser in situ keratomileusis. Journal of Cataract & Refractive Surgery , Volume 26 , Issue 9 , 1326 - 1331.
5bParkhurst, G. Psolka, M. Kezirian, G. Phakic intraocular lens implantantion in United States military warfighters: A retrospective analysis of early clinical outcomes of the Visian ICL. J Refract Surg. 2011;27(7):473-481.