20-20-20 Rule & How to Prevent Eye Strain | EVO ICL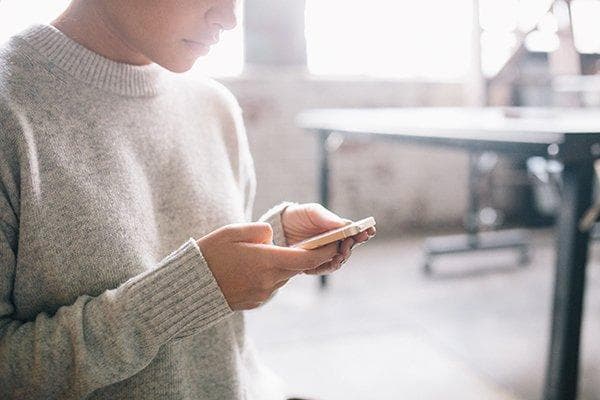 It's almost impossible to go through the day without looking at a digital screen whether it's your personal device or a computer monitor. Computer Vision Syndrome and dry eyes have been on the rise with the increased demand of the use of these technological devices.
What is the 20-20-20 rule?
Simple. It's a handy tool you can use at work or at home to reduce eye fatigue. Designed to reduce eye fatigue, the 20-20-20 rule says that every 20 minutes of screen time, you should look away at something at least 20 feet away for at least 20 seconds. These regular screen breaks give your eyes some much-needed rest and help prevent eye strain.
What causes eye strain?
Being surrounded by screens – from laptops to desktops to cell phones, TVs and tablets – our eyes are experiencing more screen time than any time in history, and it's taking a toll.
How to prevent eye strain
For those of us addicted to our mobile devices, apps have been developed to help us combat our unconscious habits. Apple users can rejoice since iOS 12, coming out by the end of this year, will have a built in feature to help monitor and limit one's screen time on their device.
Follow the instructions of the infographic below to put this easy, practical tip into use every day.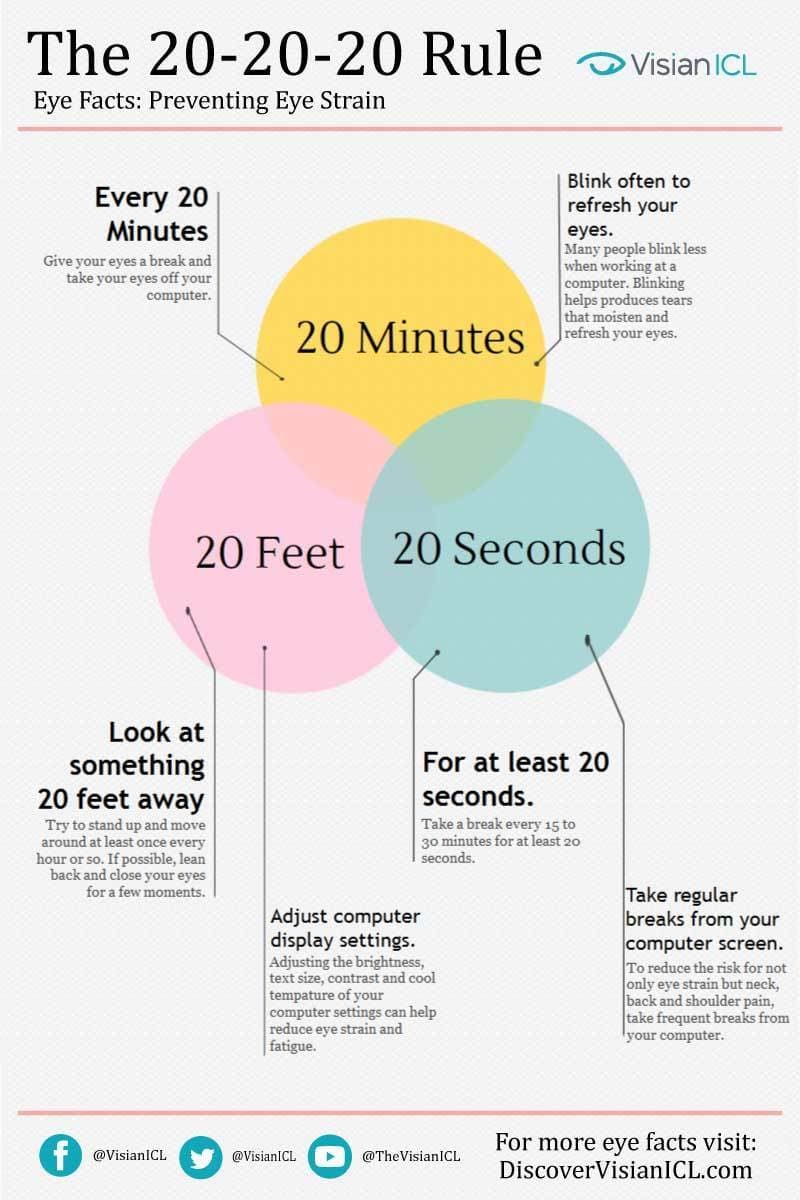 Important Safety Information
The EVO Visian ICL Lens is intended for the correction of moderate to high nearsightedness. EVO Visian ICL and EVO Visian TICL surgery is intended to safely and effectively correct nearsightedness between -3.0 D to -15.0 D, the reduction in nearsightedness up to -20.0 D and treatment of astigmatism from 1.0 D to 4.0 D. If you have nearsightedness within these ranges, EVO Visian ICL surgery may improve your distance vision without eyeglasses or contact lenses. Because the EVO Visian ICL corrects for distance vision, it does not eliminate the need for reading glasses, you may require them at some point, even if you have never worn them before.
Implantation of the EVO Visian ICL is a surgical procedure, and as such, carries potentially serious risks. Please discuss the risks with your eye care professional. Complications, although rare, may include need for additional surgical procedures, inflammation, loss of cells from the back surface of the cornea, increase in eye pressure, and cataracts.
You should NOT have EVO Visian ICL surgery if:
Your doctor determines that the shape of your eye is not an appropriate fit for the EVO Visian ICL
You are pregnant or nursing
You have moderate to severe damage to the optic nerve caused by increased pressure (glaucoma)
You do not meet the minimum endothelial cell density for your age at the time of implantation as determined by your eye doctor
Your vision is not stable as determined by your eye doctor

Before considering EVO Visian ICL surgery you should have a complete eye examination and talk with your eye care professional about EVO Visian ICL surgery, especially the potential benefits, risks, and complications. You should discuss the time needed for healing after surgery. For additional information with potential benefits, risks and complications please visit DiscoverICL.com.