Contact Lens vs. EVO Visian ICL | What's the Difference?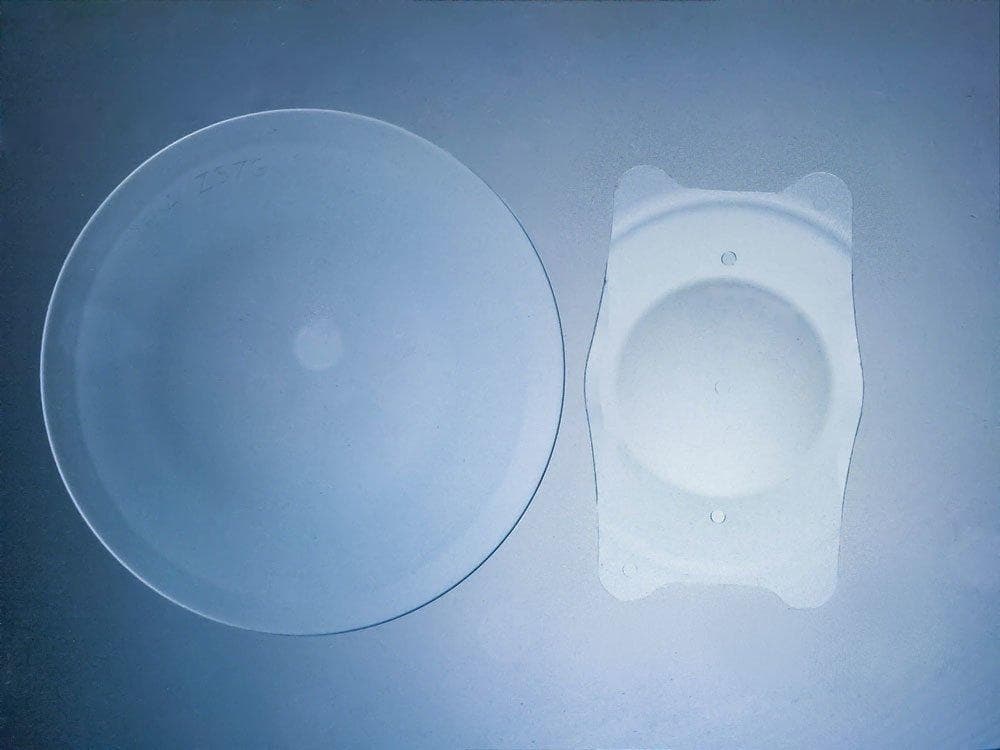 What is the difference between a contact lens and the EVO Visian ICL (EVO)? Is the EVO ICL better than contacts or are contacts better than the ICL? Both are something that go into your eyes and help to correct your vision, but what sets them apart?
What is the EVO Visian ICL?
The EVO ICL is an Implantable Collamer® Lens that is made up of a combination of collagen and polymer, which is biocompatible and made of the same material found in your natural eye. It's placed in between the iris and cornea of your eye to give you clear, crisp vision.
The lens can help with:
Nearsightedness (Myopia) – EVO ICL
Astigmatism – EVO+ Visian ICL (EVO+)
Provides UV protection
The EVO ICL within the US is currently approved for:
EVO ICL – corrects severe myopia (up to -20 diopters)1
EVO+ ICL – corrects myopia (up to -16 diopters) & astigmatism (up to 4 diopters)
By addressing your visual needs, the EVO ICL provides a lens uniquely made for your eyes.
Why do some people call EVO ICL an "implantable contact lens"?
Commonly called the implantable contact lens, EVO ICL is essentially implanting a thin collamer lens into your eye that does the job of what a contact lens does, with the possibilities of additional benefits. This provides the option of the lens being permanently placed in your eye, with the option of being removed should your vision need further correction. Thus giving the nickname of the implantable contact lens.
Although some people say the EVO ICL is like an implantable contact lens, the official name of the lens is an Implantable Collamer® Lens, or ICL for short.


What is a contact lens?
Contact lenses are a thin plastic lens2 that lay on top of your cornea in the eye to correct one's vision.3 Depending on the type you choose, contacts can treat one or more of the following:
Nearsightedness (myopia)
Farsightedness (hyperopia)
Age-related farsightedness (presbyopia)
Astigmatism
They come in a variety of types3 such as:
Soft contact lens vs hard contact lens (gas permeable vs. rigid gas permeable)
Day Wear vs. Night Wear
Daily, by-weekly, monthly, yearly
Toric contact lens (for astigmatism)
Bifocal contact lens
All these options may make it difficult to choose the best for your eyes without a professional consultation, compared to the EVO ICL that can provide a simple pathway towards improving your vision with one simple procedure.
What is the size difference between contact lenses and the EVO ICL lens?

Contact lens are on average between 14mm to 16mm in diameter5 while the EVO ICL is on average between 12mm – 13mm in diameter.6
They are similar in sizing and both are able to provide clear vision for your visual needs.


Do you have to maintain the EVO ICL lens like a contact lens?
The answer is no! You don't have to take them off every day like you do a contact lens. The EVO ICL is a lens that is permanent, yet removable, a benefit over most contact lenses.
The procedure usually takes 20-30 minutes and typically only a few checkups are required after getting the EVO ICL procedure. Any additional checkups would be based on your unique needs and doctor recommendations. Should a change in one's vision occurs, a visit to an ophthalmologist is recommended.
Because contact lenses are not implanted into the eye, most require weekly, if not daily care. They are designed to be temporary and removable at will, so some tend to be more susceptible to drying out and/or getting dirty through normal day wear. Contact lens solution should be used to clean out one's lenses with clean hands to help prevent any risk of eye infections from bacteria.


What are the risks of wearing contact lenses compared to the EVO ICL?
Contact lenses can pose various dangers ranging from eye infections and possibly inducing blindness. Some problems caused by contact lenses include wearing them longer than recommended or taking them out without washing your hands, transferring bacteria directly into your eyes.
In 2016, over 80% of people between 12 - 24 years of age engaged in behavior that put their eye heath at risk.

Additionally, the cleaning solution for contacts are not always 100% "accurate" as it doesn't remove all buildups in the lens such as certain proteins. This can lead to problems caused by the lenses such as increased risks of eye infection or irritations.7

This may be caused by:8
Not washing hands before touching contact lens
Not rinsing out your contact case with clean solution
Wearing contact lens longer than recommended
Sleeping with your contact lens
"Topping off" solution in your case (aka not discard all leftover contact lens solution after each use)
Swimming with contact lenses
Exposing your contact lenses to any water
With the EVO ICL, you won't have to worry about remembering to clean your contacts or swimming with them on! It eliminates that hassle and simply provides you will clear vision.
There are many pros and cons of contact lenses, but the main difference for Jennifer Puno was that the EVO Visian ICL was permanent, yet removable. Check out Jennifer's testimonial on how this procedure changed her life.
Important Safety Information
The EVO ICL Lens is intended for the correction of moderate to high nearsightedness. EVO ICL and EVO TICL surgery is intended to safely and effectively correct nearsightedness between -3.0 D to -15.0 D, the reduction in nearsightedness up to -20.0 D and treatment of astigmatism from 1.0 D to 4.0 D. If you have nearsightedness within these ranges, EVO ICL surgery may improve your distance vision without eyeglasses or contact lenses. Because the EVO ICL corrects for distance vision, it does not eliminate the need for reading glasses, you may require them at some point, even if you have never worn them before.
Implantation of the EVO ICL is a surgical procedure, and as such, carries potentially serious risks. Please discuss the risks with your eye care professional. Complications, although rare, may include need for additional surgical procedures, inflammation, loss of cells from the back surface of the cornea, increase in eye pressure, and cataracts.
You should NOT have EVO ICL surgery if:
Your doctor determines that the shape of your eye is not an appropriate fit for the EVO ICL
You are pregnant or nursing
You have moderate to severe damage to the optic nerve caused by increased pressure (glaucoma)
You do not meet the minimum endothelial cell density for your age at the time of implantation as determined by your eye doctor
Your vision is not stable as determined by your eye doctor
Before considering EVO ICL surgery you should have a complete eye examination and talk with your eye care professional about EVO ICL surgery, especially the potential benefits, risks, and complications. You should discuss the time needed for healing after surgery. For additional information with potential benefits, risks and complications please visit DiscoverICL.com